RAIKO gutter system
The RAIKO® Premium gutter system is a complete drainage system ideal for any roof, characterized by durability, ease of installation, as well as completeness and compatibility. Each element of the RAIKO® Premium gutter system is the result of the selection of optimal technological solutions, the uniqueness of which is protected by patents.
Thanks to their special features, the gutters in the RAIKO® Premium system have excellent corrosion protection, are very easy to install, maintain and serve several times longer than other gutter systems.
We provide a 30-year warranty for the RAIKO® Premium system.
Raw material
The RAIKO® Premium gutter system is based on the most modern Swedish cold pressing technology. The system components are made of the highest quality steel sheet (0.6 mm), galvanized on both sides (275 g / m)2), constituting a thick core, covered on both sides with a strong layer of paint with a thickness of 35 microns (GreenCoat® RWS coating). The steel from which the RAIKO® Premium system is produced is manufactured by the Swedish steelworks SSAB.
The GreenCoat® RWS coating, thanks to fine polymer grains in the external paint layer, is characterized by a very high surface smoothness, color stability and resistance to scratching and all weather conditions. Eight protective layers covering the sheet metal (four on each side) guarantee excellent corrosion resistance of the elements, which significantly extends the service life of the system. This coating is resistant to aggressive chemical components dissolved in rainwater and air pollution. As a result, the coating retains its structure, original color and gloss over time.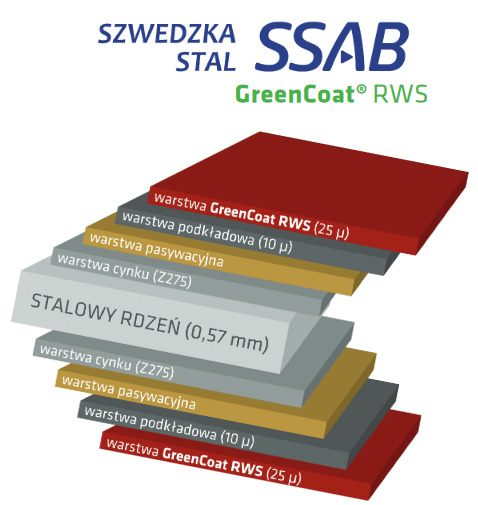 | PARAMETR | WARTOŚĆ | NORMA |
| --- | --- | --- |
| ZASTOSOWANIE | na zewnątrz | EN 10169+A1 |
| GRUBOŚĆ POWŁOKI | 35 μm / 35 μm | ISO 2808 |
| TOLERANCJA GRUBOŚCI POWŁOKI | 6 μm (średnia 3 pomiarów) | EN 10 169-1 |
| POŁYSK | 40 | EN 13523-2 |
| MIN. PROMIEŃ GIĘCIA | 1T (ciemne) - 2T (jasne) | EN 13523-7 |
| MIN. TEMP. FORMOWANIA | +15°C | *** |
| ODPORNOŚĆ NA UDERZENIA | 8 | EN 13523-5 |
| TWARDOŚĆ | HB-F | EN 10 169-1 |
| MAX. TEMPERATURA PRACY | +100°C | *** |
| KATEGORIA UV | Ruv3 | prEN 10169-2 |
| ODPORNOŚĆ NA KOROZJĘ | RC5 | EN 10 169-1 |
| ODCHYŁKA KOLORÓW | E<1.0 | *** |